Stadium to Stadium Challenge
Join Lewis and Annie and take on your own run, walk, swim or cycle from your favourite sports stadium, all the way to the home of English Rugby!
With our love of all things sport, this Autumn Lewis and Annie will be leading the way, on our ambitious Stadium to Stadium Challenge! As the country gradually opens up, children go back to school and our lives begin to take on a 'new normal', we must continue to drive forward vital research and support for those affected by a brain tumour. But we can't do this alone! And so, starting from Lewis' home ground at Leicester Tigers, and Annie's home club at Bath, the pair will be cycling and running to reach their ultimate goal, Twickenham, in a bid to raise funds to support The Foundation's vital projects. And we need you to join them!
Simply choose your favourite sporting club, from your home-grown local team, to the top trophy winning champions and then walk, run, cycle, swim or even paddle board, the distance all the way to Twickers! Or join team Annie or team Lewis and see who can score the most miles and, of course, the highest fundraising totals!
You can take on your challenge in one day, week or month, whatever suits you and you could even bring a team together to build some great shared memories and achieve something special this Autumn.
As part of this challenge you'll get your own Lewis Moody Foundation performance top, access to our WhatsApp group, fundraising resources and of course we'll be there with you, every stride, stroke, peddle and paddle, cheering you all the way to the try line! Plus, raise £200 or more and you'll be entered into a prize draw to win one of our Bose Speakers worth over £300!
No matter how you get there, or how far you choose to go, every mile you travel in our virtual Stadium to Stadium Challenge, will bring us closer to a world in which brain tumours have been tackled for good. At a time when charity income has been decimated and yet the need for our vital support services has increased, by joining Lewis and Annie right now, you can help ensure a better tomorrow for all those affected by a brain tumour.
OVERVIEW
When:
September-October
Where:
In your local area
Duration
As long as you like!
COSTINGS
Cost of challenge:
Free
Minimum sponsorship:
£200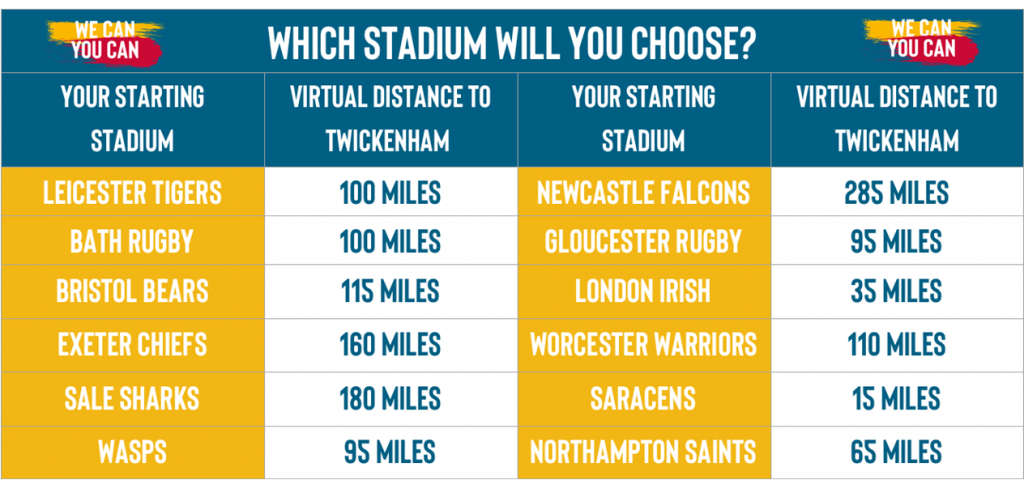 QUOTE BOX
"A massive thank you for yesterday, for all your support and encouragement, hospitality and the massage, which my legs were very thankful for. You did an amazing job. I was proud and honoured to be part of such an awesome team, thank you!"
Kay Davis, Bath Half Marathon runner
"I will take a great deal from the challenge and know that I will be an even better leader and mentor in my business and a better person in my home and personal life from the experiences of the last 10 days."
Jon Sump, CEO Mick George, headwest team member
"An experience like nothing I've ever done. The hardest yet most rewarding challenge with brilliant people."
Mark Spoors, Director esportif, Mega-Tri team member