Christmas Appeal- Kevin and Kate's story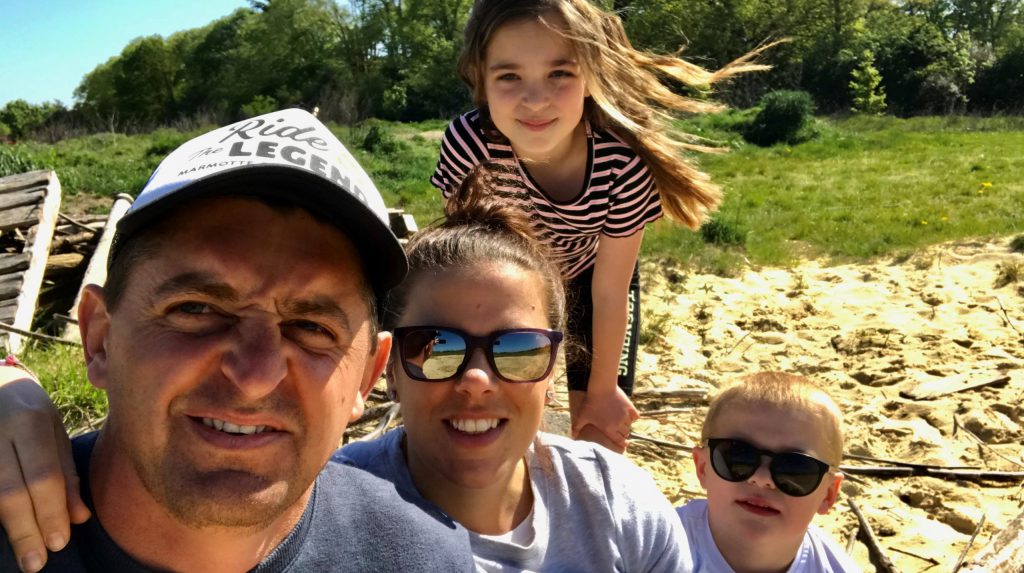 19th December 2020
"On the day of Kevin's diagnosis, a nurse told us to live our lives – this has stuck with me and I remember this during the hard times to pick myself up and carry on. It's important to keep positive, take each day as it comes, not to think too far ahead and – most importantly – enjoy the now."
Kevin Fisher, 40, from Sunbury-on-Thames had been having problems with his eye sight, including flashing lights and a feeling of disorientation, for over four years. However an eye appointment at Ashford Hospital prompted concerns that he was having a stroke so he was sent straight to A&E.
An urgent MRI scan revealed a mass on Kevin's brain. Shortly afterwards, he had emergency surgery which successfully removed 90% of the oligodendroglioma and he was in hospital for five days. This was followed by courses of radiotherapy and chemotherapy.
As a self-employed Rugby Coach, and head coach for the Under 6's London Irish Rugby Team, dad-of-two Kevin has kept as active as possible throughout his treatment. Although he is unable to drive at the moment, he has been cycling and swimming most weeks when possible.
Kevin's wife, Kate, first got in touch with The Lewis Moody Foundation when a close friend suggested that the charity's services would benefit them. They also reached out to partnership organisation, The Brain Tumour Charity, to find out more about brain tumours including treatment and side-effects. Kate, Kevin and their two children – nine-year-old Erin and Billy who is six – also plan to attend a Family Day in the future. These events bring together other parents and children who have been affected by a brain tumour diagnosis to provide comfort and companionship through shared experience.
The Fisher family have also been busy fundraising, including holding a testimonial lunch, running a socially distanced relay and Kevin also hopes to take part in the South Africa Challenge in 2021 for The Lewis Moody Foundation. Most recently the family have been supporting The Foundation's Christmas Appeal, sharing their story to help raise awareness and much needed funds to help The Foundation to support other families just like theirs, affected by a brain tumour.
Kate said: "We wanted to give ourselves a focus by fundraising and the team at The Foundation have provided great guidance on what we can do to help and what challenges we could be involved in. Kevin has always be so physically fit and active so it has been important for him to continue to be that way following the diagnosis and through his treatment, so the South Africa Challenge is the perfect goal! We also want to help ensure that The Foundation can continue to be there to bring hope to families in the future. So supporting the Christmas Appeal has been really important to us. Through sharing our story, we hope we can connect, inspire and raise awareness this Christmas."

Life has been far from easy for the family as they aim to keep a sense of consistency and normality for their children even in the wake of such upset and within a global pandemic.
Kate added: "Life was really hard to begin with as Kevin was in hospital and it felt like our lives had been turned upside down. Life changed overnight yet it put a lot of things into perspective. We don't want to waste any time so I think we're busier than ever trying to organise socially distanced things as a family.  The children also need to have a normal life without this awful tumour and pandemic changing everything. The schools have helped massively – I would advise anyone going through this to speak to the teachers as they have really kept an eye out for them and made sure that they are OK, even from home.
"We know that we are extremely lucky. Our family and friends have been amazing and so supportive – they have even raised money to help us pay the mortgage in case Kevin can't work. There's lots of people out there who don't have the same support from friends and family as we do.
"That's why we are so lucky to have found The Lewis Moody Foundation and The Brain Tumour Charity who have made us feel part of the community and helped us to realise that we are not alone. We know others aren't as fortunate as us and so it's become really important for us to help support these organisations, who can help others in our situation. The information on their websites really helped me to understand – I refuse to Google brain tumours as that can throw up lots of misleading information, but I trust The Foundation to provide accurate and honest information. These charities also help to foster a feeling of community to which you have become a part of – even if you didn't want to. Knowing I can call someone up when I need help is really comforting."
Kate added: "Charities have been hugely affected by the pandemic. With your help, we want to ensure that The Foundation can continue to be there to bring hope to families in the future. They have been vital through our journey and a donation this Christmas really could help them be a lifeline to others like us, affected by a brain tumour. So please if you can, make a donation to their Christmas Appeal today."
Thank you to Kevin and Kate Fisher for sharing their story. You can watch their interview with Lewis and Annie below.