Join our new virtual event-The Myzone Fitness Challenge!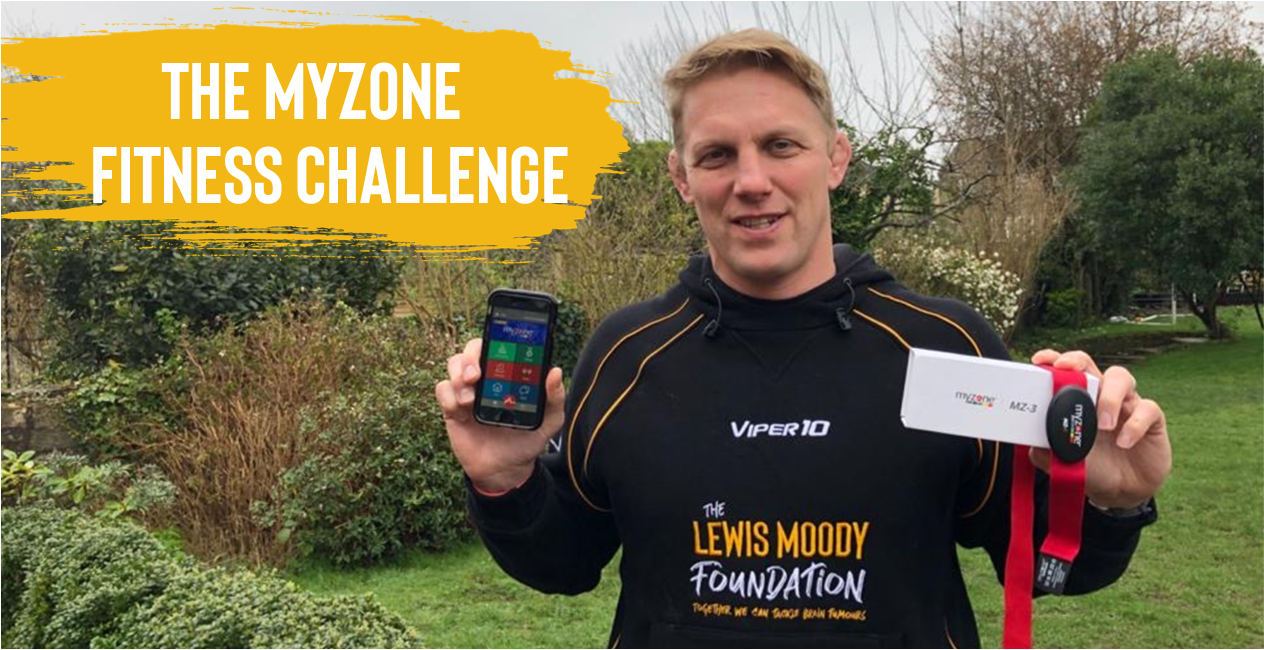 15th April 2020
Former England Rugby Captain Lewis Moody launches remote fitness challenge with 50 free Myzone heart bands to give away!
Lewis Moody is calling on the great British public to get fit and raise money for vulnerable people living with a brain tumour. The first 50 to sign to The Lewis Moody Myzone Fitness Challenge and pledge their support, will receive a free Myzone heart rate band!
The Lewis Moody Foundation has teamed up with Myzone to create a challenge to help the UK keep active, stay connected and support vulnerable people living with a brain tumour, during these unprecedented times.
Myzone is an innovative wearable heart rate based system using cloud-based tech to monitor physical activity.
The first 50 people who sign up to the Lewis Moody Myzone fundraising and fitness challenge will receive a free Myzone MZ-3 heart rate band.
Lewis Moody said: "As we all adjust to these unprecedented times, let's inject some fun and fitness into daily life, whilst raising funds to support our most vulnerable community.
"I'm encouraging people to take on their own personal fitness challenge to reach a collective goal during these challenging times.
"You don't need to be super fit to start, you can go at your own pace and choose to work out as many days a week as you like. Running, cycling, reps or the daily Joe Wicks workout – it all counts!
 "It will be great to build a team through this challenge, to support each other as we get fit and move towards a collective goal."
When people sign up, they'll join The Lewis Moody Foundation community. As they hit milestones, they'll move up the status ladder towards set goals.
Alongside the physical challenge, participants are also encouraged to set up a JustGiving page with an aim to raise a minimum of £130 each. The money raised can help fund vital support services run by The Brain Tumour Charity.
The launch is just one of the ways The Lewis Moody Foundation and The Brain Tumour Charity are using innovative solutions to maintain funding and support for everyone in the brain tumour community, when income from traditional runs and challenges has been decimated.
The challenge is to convert individuals' workouts into Myzone Effort Points (MEPS) to reach the target of 102,000 over 12 weeks.
Lewis said: "Approximately 102,000 people are currently living with a brain tumour in the UK.
"By joining this fitness challenge and raising funds, you can help The Lewis Moody Foundation to fund The Brain Tumour Charity's vital Support Services, bringing information and support to those who need it most, in these particularly challenging times.
"Many other fundraising events and challenge events have been wiped out due to the coronavirus so this is a new way of engaging people and to keep the funds coming in"

Dave Wright Creator and CEO of Myzone said: "Having a family member suffer from a brain tumour, I've seen close up and personal the impact that this has had on everyone connected.
"Everyone at Myzone is thrilled to be able to support Lewis and his Foundation to raise money for such a worthy cause.
"If through the use of Myzone we can encourage people to be both physically, emotionally and socially strengthened, then that is a `try' for everyone!"
Everyone who signs up for The Lewis Moody Myzone Fitness Challenge will receive:
A Myzone MZ-3 heart rate band which syncs to the app to show and reward effort when you work out. The MZ-3 displays real-time heart rate, calories, and intensity! Free to the first 50 sign ups.
The Myzone phone App which offers motivation and engagement through built-in exercise challenges, personal goals, commenting and sharing workouts
Access to Lewis Moody's exclusive built in Myzone Community Challenge. Join the team and scale the leaderboard as you exercise to help us reach our overall team goal!
Live home workout sessions to help reach your personal goal
Reach £130 in fundraising and bag yourself a Lewis Moody Foundation Tshirt
Interested in taking on the challenge? Sign up today!