Mental Health Awareness Week- Challenge Leader Wayne shares his advice.

23rd May 2020
Challenge Leader Wayne Hoyle reflects on his time in the Special Forces and shares his advice for good mental health. 
During this Mental Health Awareness Week, we invited The Extreme Leader's co-founder and Lewis Moody Foundation Challenge Leader, Wayne Hoyle, to share some of his personal experience and advice on maintaining good mental health and resilience.
"Thirty years ago, if any of my comrades came to me with talk of PTSD or Burnout, I would have told them to dry their eyes. I was ignorant, naïve and very wrong. In my many years as a Special Forces operator, I worked with some of the toughest and strongest men you could imagine, and I saw some of them reduced to a shadow of their former selves as a result of mental ill health.
Any organisation is only as strong as the collective resilience of its members. Only by understanding that we have shared areas of strength, and by building awareness of potential areas of vulnerability can we keep our teams' integrity, and subsequently support one another to build the foundations of a sustainable, high performance culture.
External pressures can be constant, and there's also the pressures that come from within, the pressure we place upon ourselves. We are diligent, conscientious, we don't want to let anybody down, and then there's the "F words" the Fear of Failure…
If we maintain an optimal balance between pressures and capability, we could remain effective and perform at the highest levels indefinitely – but maintaining this state without support is difficult. We will all at some stage, to some extent, take on more than we can manage, or we will be burdened by additional external factors beyond our control.  If we don't acknowledge the pressure and respond with suitable strategies, we can begin to suffer, and it can lead to illness, anxiety and depression.
At The Extreme Leaders, we recommend the B.A.S.I.C.S for maintaining and building resilience for good mental health.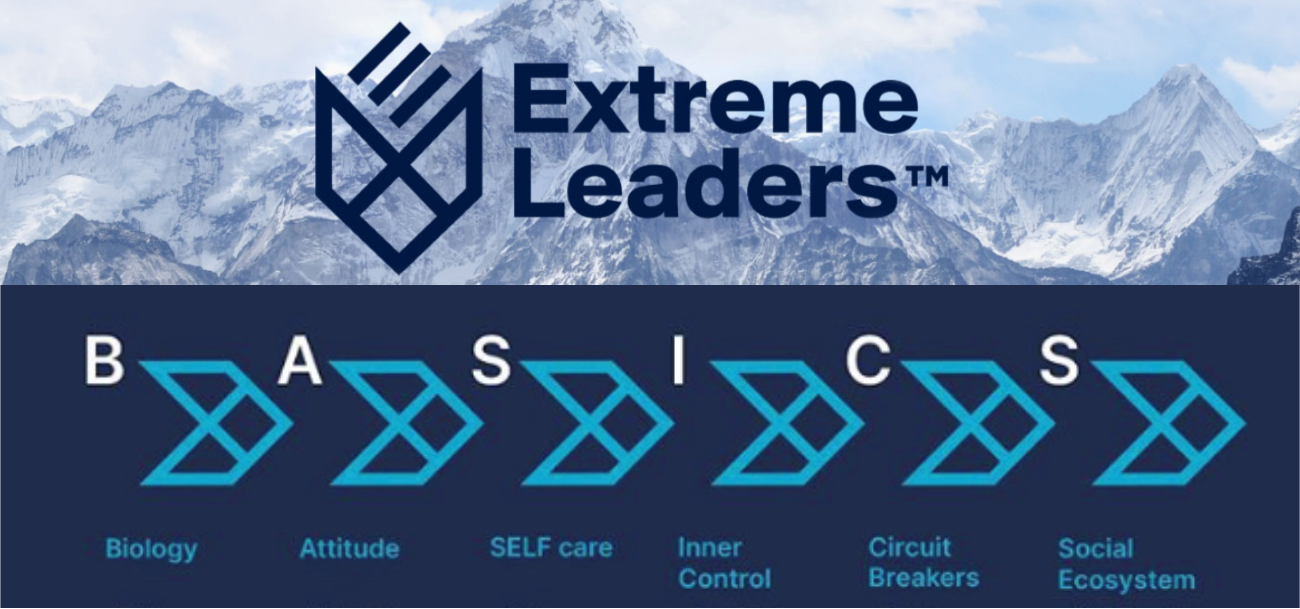 Some of the areas covered by the B.A.S.I.C.S include:
Physiology – The ability to recognise the signals from your own body, the importance of diet, sleep, exercise and social support.
Healthy choices– Both at home and at work will help maintain that optimal balance and prevent burnout.
Mindset– How we see things, our attitudes towards the challenges we face will have a profound effect on how we cope with them.
Taking these foundations and drawing on our collective experiences of resilience and performance through adversity, we have developed a series of online programmes and tools to help individuals, teams and whole organisations to become more resilient. We call it Extreme Resilience."

At The Foundation, we are proud to collaborate with The Extreme Leaders, through a variety of our challenges. They are an exceptional group of authentic leaders. Inspiring, compassionate and highly skilled, they help individuals, and teams, learn the physical, emotional and practical aspects of resilience and have successfully helped us raise a great amount of vital funds, through our Challenges, to date
Each Extreme Leader has achieved an extraordinary level of knowledge and expertise in the science and psychology of resilience. They have amassed this knowledge in sport, business, on polar expeditions and in the military, where they have led teams, under intense pressure, in harsh and complex environments. As an organisation, they can bring true transformation to people and to your business through support and leadership programmes and we are incredibly lucky to have their support behind us.
To find out more about The Extreme Leaders, B.A.S.I.C.S and to get access to some great free tools and resources, you can sign-up here.